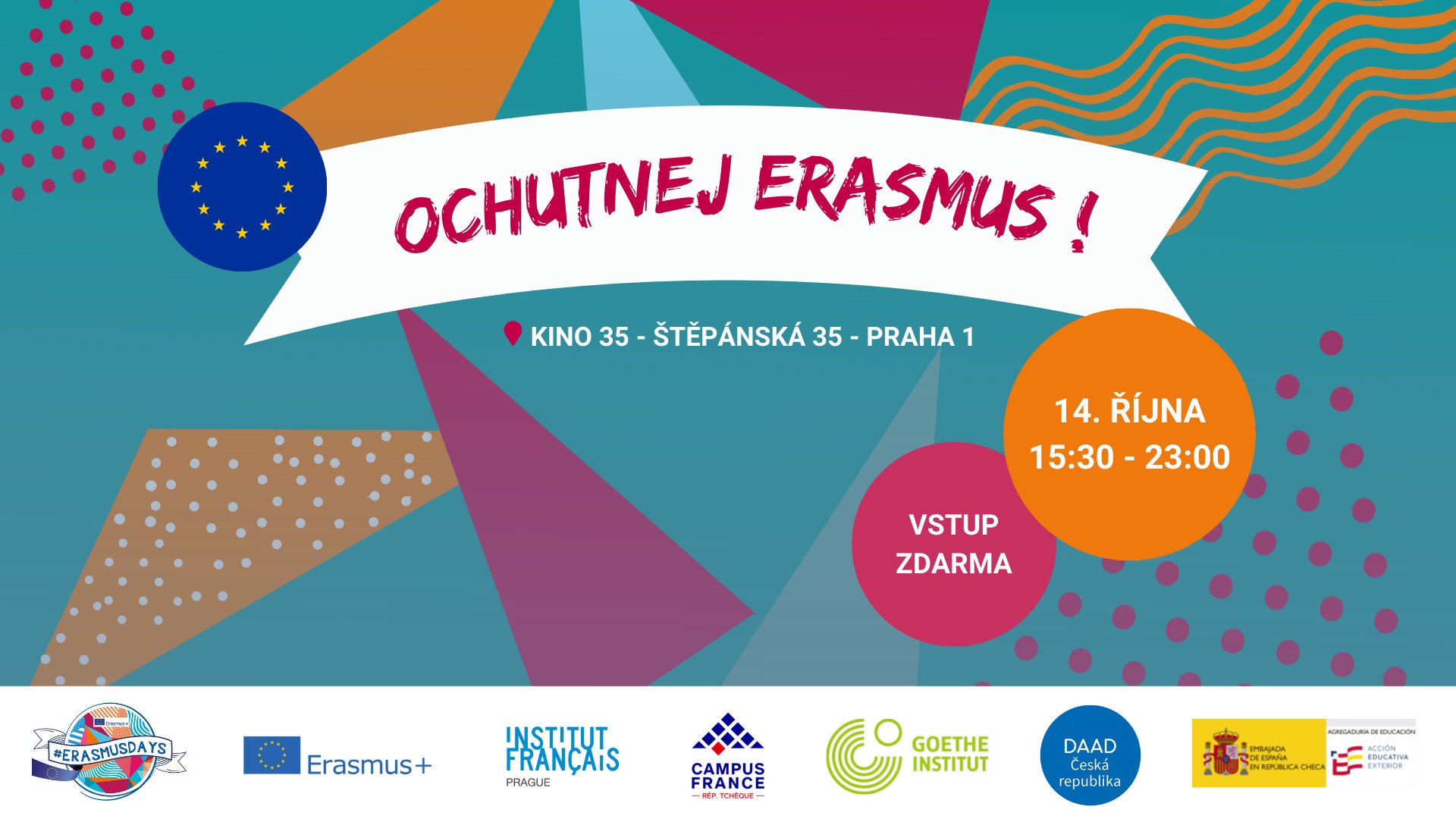 Ochutnej Erasmus !
Ochutnej Erasmus !

Celebrate Erasmus the Days 2022!

Free entrance, registration mandatory
Have you heard about the Erasmus program? Are you ready to start your Erasmus adventure soon, or simply curious, eager for European culinary and cinematographic discoveries?
The Education Office of Spanish Embassy in the Czech Republic, the DAAD Information Point in Prague, the Goethe Institute in Prague and the Campus France Office in the Czech Republic are pleased to invite you to their common event "Ochutnej Erasmus!" on October 14, 2022 between 3:30 pm and 11pm at Kino 35 (Institut Français de Prague).
To celebrate international mobility and European values, we propose you the screening of 3 movies from each of our countries (Spain, Germany and France) presented by Alumni who will share a bit of their experience, and a French-German-Spanish refreshment. You will also have the opportunity to learn about studies in our three countries on our information booths.
Programme:
15:30 - 15:35: Welcoming words
15:35 - 15:40: Presentation of the first movie by Amaya Cal Linares (Education Department of the Embassy of Spain in the Czech Republic) / Otakar Duchek (former Erasmus law student in Seville)
15:40 – 17:45: Campeones (124 minutes) (SP.TIT.EN)
17:45 - 18:15: French-German-Spanish refreshment / Booths "Study abroad!"
18:15 - 18:20: Presentation of the second by Jana Dostálová (DAAD IP Prague) / Andrea Lerchová a Sabina Lišková (Erasmus exchange / summer language course graduates)
18:20 – 20:05: Almanya, Willkommen in Deutschland (101 minutes) (DE.TIT.EN)
20:05 – 20:35: French-German-Spanish refreshment / Booths "Study abroad!"
20:35 – 20:40: Presentation of the last movie by Chloë Rébéna (Campus France Office in the Czech Republic) and Stěpán Hron (former Erasmus student University of Bordeaux in Law and political sciences)
20:40 – 22:45 : L'auberge espagnole (122 minutes) (FR. TIT.EN)
---
Free entrance - Catering offered
The number of places is limited. To participate, please register here (mandatory) : https://bit.ly/3Cbut7I